June 2015 
A Newsletter for Customers and Friends of Abanaki Corporation
Abanaki's New Coolant  Maintenance Guidebook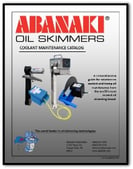 This new literary guide provides an all-inclusive look at  our coolant maintenance line including product specs,  coolant maintenance tips, and customer success stories.
---
The 7 Pitfalls of Oil Skimming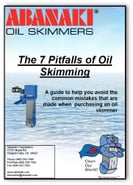 This article provides a how-to guide on the best practices for purchasing an oil skimmer and how to avoid the common mistakes that are made.
---
Oil Skimmer Blog:
Early Bird Gets the Oil Skimmer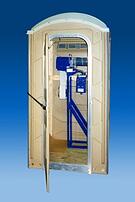 A Recently a UK beverage production customer called us with a  very unique oil skimming problem. The customer currently  uses a PetroXtractor Oil Skimmer in the outdoor portion of  its facility. The PetroXtractor is necessary for groundwater  remediation purposes and to help the facility stay in  compliance with the environmental government services.
---
Oil Grabber® Model 4 Oil  Skimmer
For Harsh, Industrial Wastewater Treatment
The Abanaki Model 4 Oil Grabber is a dependable and effective means of  removing oil from water and water-base solutions. It utilizes a continuous  belt and wiper to remove up to 20 gallons of oil per hour from the fluid  surface. The belt, operating on a motor and pulley system, runs through  contaminated liquid to pick up oil from the surface. A single unit elevates  and separates oil, lifts oil any distance without the need of expensive  pumps, and maintains oil skimming efficiency with fluctuating fluid level.
---
Oil Skimmer Product Highlights
---
Mighty Mini® SST Oil Skimmer 

Oil Viper Tube Skimmer Ideal Coolant Maintenance Skimmer
This compact skimmer can remove 1-2 gallons of oil per hour, extend coolant  life, endure harsh applications, and fits almost anywhere in the shop!
---
Unique Design for Efficient Skimming!
The Abanaki Oil Viper tube skimmer is a surface oil skimmer that effectively  removes floating surface oils by means of an oleophilic continuous looped  tube. The tube extends out over the surface of the tank or pit and collects  the free floating oils.
---
Grease Grabber® Belt Oil Skimmer
Efficient Removal of Floating Grease and Heavy Oil!

A versatile belt oil skimmer. Ideal for removal of floating oil and other hydrocarbon liquids from harsh conditions. Removal rates of up to 160 gph.
Contact your Abanaki representative today to answer your questions, assist  you with replacement parts, or for information on new products.
---
Free Resources
Will your oil pick up? The Skimming Material Test Kit will include belt and tube sample materials that you can use to test their effectiveness at your location.We will send you samplematerials which may include fuzzy, steel, poly, and elastomer belts, and/or collector tubes for standard and high temperature applications.
Request Your Skimming Material Test Kit Now!
---
Six Reasons to Remove Oil From Water Before Disposal  Infographic
A crucial step many industries must take in a manufacturing  process is to remove oil from water. Whether it is to comply  with government standards and avoid fines or trying to cut down  on disposal costs, there are a number of advantages companies  enjoy when they use oil skimmers to remove oil from water. Here  are six reasons why manufacturers need to remove oil from water  and how Abanaki oil skimming technologies offer a cost-effective  solution.
---
Oil Skimmer Facts Handbook *Updated*
The industry's most complete handbook on how to select and  size an oil skimmer for your application. This handbook contains  information on all aspects of oil skimmer application.
---
Ask Skimmerman your questions and they will be answered in an email. Read below to see Skimmerman's answers to other questions.
Daniel Cross asked:
Oil and grease tends to become solid in the surface of  separation tanks in food industry. How do the skimmer works in  this situation?. Are they provided with a heater?. Thanks for  your answer.
Skimmerman says:
An oil skimmer can be used effectively in this application  by utilizing a Mat Buster to break up the solids. As the skimmer  picks up the oil and grease it is discharged into a heated  trough or hopper (depending on the model selected), liquefied  and discharged to a tramp oil container. As happens so often  here at Abanaki, the Mat Buster grew out of the needs of our  clients—such as you!
Karen Sohlberg Asked:
My oil skimmer isn't picking up oil from my coolant sump  like it did a few days ago. What is going on?
Skimmerman Says:
Your coolant may contain rust inhibitors that are coating  the metal belt causing a barrier between the the belt and the  oil. Try changing to a synthetic belt material such as Elastomer  or Polymer. Rust inhibitors do not affect them.
---
About Abanaki – Abanaki, the world leader in oil skimmer products, manufactures a wide range of products to remove oils, greases, solvents, and related hydrocarbons from water, groundwater,  and industrial effluent. Today, under the corporate motto "Clean Our World®", Abanaki addresses pollution industry through low total cost of ownership, constant  innovation, and environmental stewardship.